by Alec Busse • EMAWOnline – Lead Reporter – @Alec_Busse
NEW YORK — It's Wednesday night in New York city, the eve of the Sweet 16, which is to be played on Friday night at Madison Square Garden with No. 3 Kansas State and No. 7 Michigan State fighting for a spot in the Elite 8. K-State's Ish Massoud and Bebe Iyiola leave their teammates at the hotel to go to a mosque where, together, they'll pray for about 2.5 hours.
Ramadan — the ninth month of the Islamic calendar is a month-long holiday celebrated by Muslims worldwide as a month of fasting, prayer, reflection and community — began on Thursday. Ramadan is the holiest Muslim holiday annually, similar to Christmas being the most significant Christian holiday.
"This month makes you cleanse, it makes your faith, you become a better Muslim," Iyiola said.
Both Massoud and Iyiola are members of the Muslim community and are observing Ramadan as their team continues their prance through March Madness after beating Michigan State 98-93 in a thrilling overtime game Thursday night.
K-State organized a plan for Massoud and Iyiola to begin celebrating Ramadan on Thursday night, and the two began prayer together at a Mosque in New York, Massoud's hometown. Iyoila is participating in the month's long fast, which permits Muslims to only eat and drink when the sun is not up. Massoud is "hoping" to make his days up later in the year, when the season is over. But he's still participating in other rituals the holiday brings for Muslims.
First-year K-State head coach Jerome Tang is a strong Baptist believer, and despite no longer working at Baylor — a Baptist college — Tang encourages his players to have religious values, and though Massoud and Iyiola are unique in their beliefs, Tang welcomes diversity.
"I'm about guys embracing their faith, growing," he says, "My faith teaches me that people will know that I truly believe what I believe if I love everybody. And I love Ish and I love Bebe. And I want them to pursue their faith with fervor. Just run after it. I'm thankful that they believe like that."
Thursday's game between the Wildcats and Spartans came on the first night of Ramadan, a day that many people around the world become aware of the holiday even if they're not Muslim. That's why it was so important to Massoud that he played the best game of the season.
The junior scored 15 points, making 5-of-8 from the field, which included a clutch baseline jumper in overtime with 17 seconds left in the game to put K-State up 96-93. In regulation, Massoud drilled 4-of-6 attempts from beyond the arc, including one with 3:07 left in the game to make it an 80-75 Wildcat lead.
"I just try and take every shot one at a time, one shot at a time," Massoud said of making clutch shots on Thursday night. "I try and think of what's important, I try and take everything play-by-play and just be ready whenever the moment comes, because of the work I put in and the work — the faith and trust my teammates have in me to come to me in those moments."
With black ink, Massoud has written several important words, phrases or acronyms this season. On his left foot is 'one shot now,' which reminds him to focus on each individual play, and shot in the game. He also has written 'undeniable' a word that he is defining his season by. The acronym W.I.N stands for what's important now. All important phrases to Massoud.
But it's the right foot that features a word few may understand. On the toe of his purple Kyrie Irving model shoes is the word inshallah, the Arabic word for "whatever God has planned and God willing."
"It's in my mind so much," Massoud said of his right sneaker. "I knew I wanted to go pray last night and I knew to win, lose or draw that I had to give all the credit and everything happens for a reason. So I knew there were going to be lessons and blessings are going to come no matter what."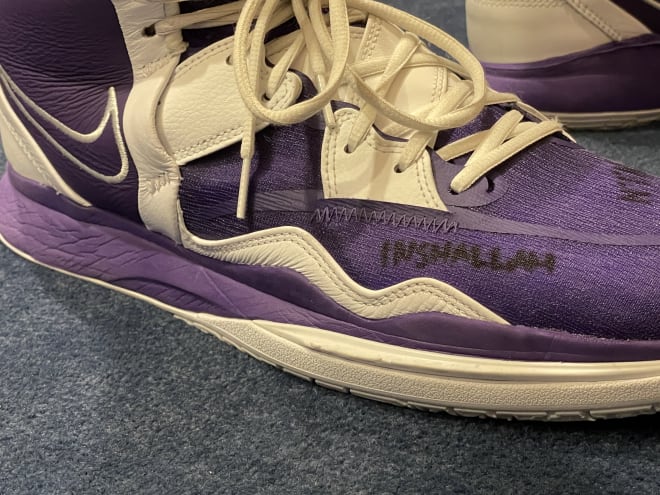 The Muslim community in the United States is tight-knit. Together it's strong, but not as open, or upfront as other religions are. Yet, their faith is strong, and Tang is familiar with it because his uncle was a Muslim and his mother was just the second in her family to adopt Christianity.
"I know a lot about the Muslim faith," Tang said. "I know that there is a great love and they are very devout people. I appreciate that, and I can embrace that."
Massoud and Iyiola participate in team prayers before practices, and even though Massoud and Iyiola may not directly identify with every message being said they're able to find their own important, personal meeting to the moment. Still, the two value the opportunity to have a teammate who shares their faith.
"The first time that I had stepped on campus and I found out that I have a teammate that is Muslim is amazing to me," Iyiola said. "I was like 'Wow' because I never really had teammates that I can pray together."
Iyiola played only one minute on Thursday night, and his role has been limited in the NCAA Tournament with the improved play of Nae'Qwan Tomlin — who scored 11 points and grabbed seven rebounds vs. Michigan State — and David N'Guessan, who scored 11 points vs. the Spartans too. But he's still serving an important role as a glue guy for K-State on the bench and during senior night, Tang called him one of the best people he's ever coached.
Iyiola is fasting this month and was seen after the game nibbling into a green apple. A bottled vanilla protein shake sat on the blue carpeted locker room floor between his legs too. "Starting fasting today, was tough," he said.
The prevalence of Muslim athletes — especially in the NBA — has grown in recent years, and the awareness of Ramadan has also seemed to grow. This month means a lot to the Muslim community — it's the most important month of the year — and it's also the most important month in college basketball.
"It's all glory to Him," Massoud said. "If you try your best to praise him and do right by him, why wouldn't he want you to succeed and be successful and have blessings."