by Mason Voth • EMAWOnline – Managing Editor –@TheRealMasonV
The field of 68 teams is set and we are a day away from the first games being played in Dayton to kick off the 2023 NCAA Tournament. For the first time since 2019, K-State is one of the teams in the field. So time for more Monday Thoughts, all featuring different notes and opinions on what we will see over the next month on the basketball court.
1. BIG 12 GETS RESPECT, BUT NOT LOVE FROM COMMITTEE
The Big 12 was by far and away the best conference in college basketball this past season and possibly the best that there has ever been in college basketball. While the conference got its respect from the committee, with seven of ten teams in the field and four of the top 16 seeds overall, the committee clearly didn't "love" the Big 12.
If the committee had loved the Big 12, Kansas and Texas would have been given better seeding (Kansas as the No. 2 overall seed and Texas as a No. 1 seed), K-State got shipped to Greensboro in lieu of Gonzaga being higher on the S-curve and Oklahoma State was the first team left out of the field.
The Big 12 got their respect, but if they were loved K-State wouldn't be playing 1,000 miles away from home as a No. 3 seed, the Cowboys would have made it in over Nevada, Mississippi State or Pittsburgh, and Kansas gets the Midwest Region and a second-weekend trip to Kansas City, rather than Las Vegas.
Ultimately the Big 12 wasn't disrespected, but they lost out on the convenience that was an option the selection committee could have given them.
2. MONTANA STATE ISN'T GOING TO UPSET K-STATE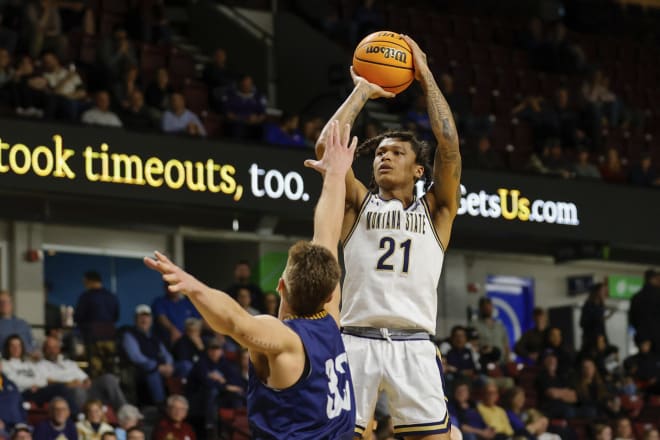 K-State's track record the last two times as a top-four seed has not gone well. In 2013 there was the loss to No. 13 La Salle and in 2019 the loss to No. 13 UC Irvine. The difference between those teams and Montana State is their KenPom rankings. La Salle was KenPom's No. 50 team, while UC Irvine was No. 73. Montana State is No. 110 this season.
Since 2015 only four No.3 seeds have lost their first round matchup. In 2021 Texas went down against Abilene Christian, the No. 84 KenPom squad. Brad Underwood's 2016 Stephen F. Austin team that beat West Virginia was No. 84. 2015 had two No. 14 seeds win in the first round, No. 68 in KenPom Georgia State over Baylor, and the lone outlier No. 135 UAB over Iowa State.
The scary trend might be that the last four No. 3 seeds to lose in the first round are Big 12 teams, but last season Texas Tech handled Montana State in this game 97-62. This K-State team with the players and coaches they have, will not fall victim like past Big 12 and K-State teams with the high seed upset in the first round.

To see all EMAW Online stories and post and view premium message boards, sign up with promo code EMAW 30 for your first 30 days free of EMAW Online. Use this link to sign up today!
3. K-STATE GETS GOOD MATCHUPS, BAD LOCATION
As much as the Wildcats' upcoming trip to Greensboro is a tough blow for fans wanting to make a trip to see the Wildcats in the NCAA Tournament, the matchups worked out pretty well in K-State's favor.
For starters, K-State will avoid a dangerous Creighton team in a possible second round matchup, that luxury goes to Baylor who I think probably falls in that game. In addition to the second round which would be against Kentucky or Providence, both teams that have had some wild highs and lows this season.
The entire East Region seems to be comprised of teams that were on cruise control at various points, but hit some speed bumps and can bottom out. I think if K-State were to make a run to the Final Four, their greatest chance would come in this region as opposed to any other.
The silver lining in all of this would be if the Wildcats make it to the second weekend and Markquis Nowell, Nae'Qwan Tomlin, Ish Massoud and Tykei Greene all get homecomings to New York and Madison Square Garden.
4. FIRST ROUND LOSERS IN THE BIG 12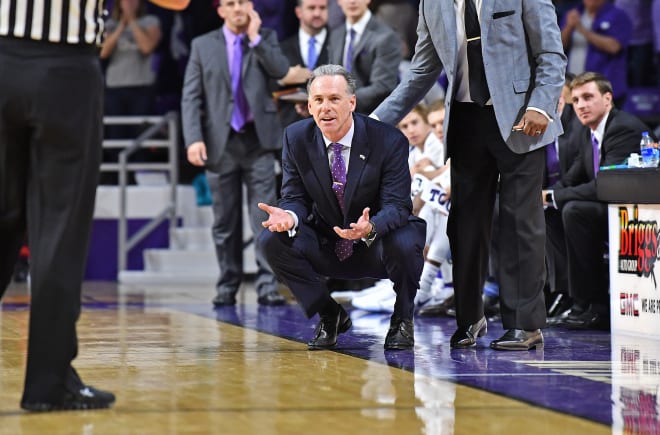 I think the Big 12 makes it to the second round with a 5-2 record. I am taking TCU and Iowa State as the lone first round losers though. Both teams will play the winners of No. 11 seed First Four games, and typically at least one of those teams stays hot enough to win one more game. I think both the Horned Frogs and Cyclones are in weird spots right now and even though both got impressive wins in Kansas City, I think getting some time to just sit and wait will lead to some bad thoughts heading to the tournament.
5. BANG FOR YOUR BUCK RANKINGS (BEST LOCATIONS)
If you are going to be in Greensboro this weekend, I hope you are a fan of one of the teams involved. Because if not, then you aren't getting treated to the most exciting matchups, at least on paper. I wanted to rank the first and second round locations based on how loaded the teams you could see are.
1. DES MOINES (Kansas, Texas, Illinois, Arkansas, Texas A&M, Penn State, Colgate, Howard)
2. ALBANY (Indiana, Miami, Saint Mary's, UCONN, Drake, VCU, Iona, Kent State)
3. ORLANDO (San Diego State, Charleston, Virginia, Furman, Duke, Oral Roberts, Tennessee, Louisiana)
I picked these three locations as the best "bang for your buck" spots in the first and second rounds because they have some great teams that could realistically be in Houston for the Final Four, but also include teams that are capable of pulling off upsets. Orlando is primed for surprising upsets with popular mid-major picks Oral Roberts and Furman, who will get cracks at some vulnerable ACC teams like Duke and Virginia.
6. PLAYERS TO WATCH IN GREENSBORO
7. FORMER WILDCATS IN THE FIELD
The note on the K-State roster entering the season was the amount of players that returned from last season was just two with Ish Massoud and Markquis Nowell, both staying and finding their way to the NCAA Tournament. A few other former Wildcats are making tournament appearances this year as well, here is who is in the field and what their matchup looks like.
Nijel Pack (No. 5 Miami) vs No. 12 Drake
Logan Landers (No. 14 Grand Canyon) vs No. 3 Gonzaga
8. BRAD KORN GETS A SHOT IN THE NCAA TOURNAMENT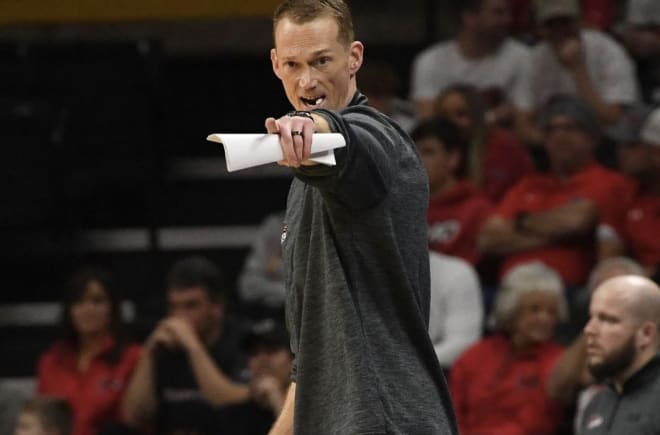 Former K-State assistant coach Brad Korn is in his third season as the head coach at Southeast Missouri State and delivered the first big upset of the conference tournament season when his Red Hawks won the Ohio Valley Conference.
SEMO was 15-16 in the regular season, before ripping off four straight wins in the OVC Tournament, taking down the No. 4, No. 1 and No. 2 seeds to swipe the OVC's automatic bid.
SEMO gets to play in the First Four against Texas A&M Corpus Christi, meaning Korn could win an NCAA Tournament game.
In addition to Korn's success with SEMO, Chris Lowery won the Big Ten's Assistant Coach of the Year Award and is helping Northwestern prepare for their first round matchup with Boise State.
9. EAST REGION FINAL FOUR CHANCES
I mentioned earlier how K-State ended up with a pretty good draw in the East Region, with teams that all have flaws and low points that can be beaten. On yesterday's NCAA Tournament reaction podcast, Alec and I discussed how we would rank the teams with the best chance of escaping this region and going to the Final Four.
I think Purdue has the best chance because when their guards are right around Zach Edey, no one is stopping them. Duke seems to have the next best chances since they have the pedigree on their roster and the top half of this region is likely to produce less competitive games than the bottom. I will round things out by giving Marquette and K-State the third and fourth spots on this list. Kentucky is pretty even with K-State, but a trickier first round matchup with Providence brings their odds down a little bit.
10. MY NATIONAL CHAMPION…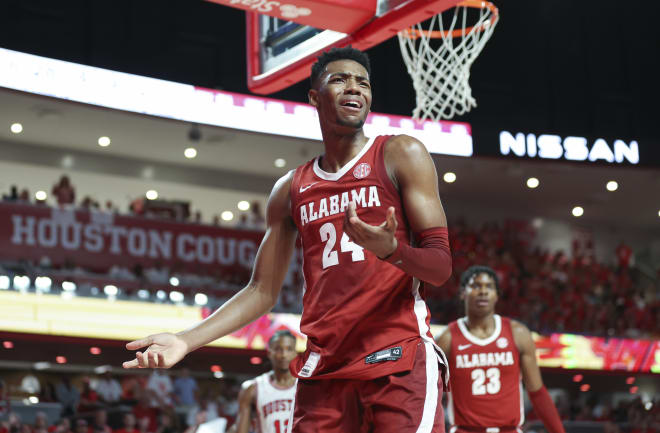 …is Alabama. I know it shouldn't be, I have always told myself to not take Alabama to go far. Their style of play is far too volatile to be trusted to rip off six straight wins in March. My philosophy has changed this year though. Alabama is still great offensively and Brandon Miller's been phenomenal on the basketball court (not off it).
As awesome and fun as Alabama is on offense (82.2 PPG, 30 three point attempts per game), their defense is even better. The Crimson Tide are a top five defensive team in KenPom, which means they are better built to push through slow offensive games than in past years. Each time I do a bracket and reset it, then fill it out again, I always come back to Alabama.