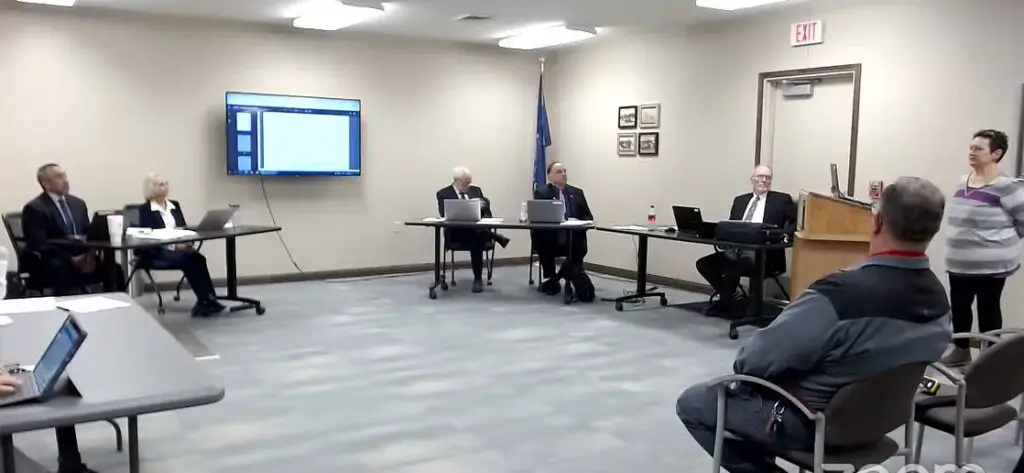 Riley County Commissioners took their meeting on the road Thursday for its first quarterly evening meeting of the year.
The meeting lasted just under two hours and county officials were generally pleased with attendance. Commission Chair Kathryn Focke proposed the idea earlier this year in an effort to "make local government accessible to everyone."
The meeting included updates from the City of Riley. Mayor Darci Pottroff highlighted a few projects the city has recently wrapped up.
"We just finished a major sewer project. It was a CDBG (community development block) grant, but we now have every city sewer line. Between the water project that happened before my time and this one, I think our infrastructure is in really good shape," she said.
The next major project the City of Riley intends to tackle is starting a municipal court, to be held once a month. Pottroff says most of the pieces are in place from having a judge, prosecutor and public defender. She says the City is also close to bringing in a code enforcer.
"I think it will be good when they come in and they're not aggressive. They're not overly aggressive at all. I think in a small community that's what we need – somebody who's going to help them get up to code versus coming in, slapping a ticket down and saying you're in violation of code," she said.
Pottroff says they don't expect the court to be a money maker for the city, but says it will be a benefit to the community overall.
The Riley PRIDE Committee has also secured space for a new disc golf course in Riley, to be located next to the City Pool.
Looking ahead, Pottroff says there is growing interest in a community center to be constructed in Riley, with a property owner noting he'd provide land for such an endeavor. However, so far to date, no plans have come to fruition.
Commissioners also received a briefing from Emergency Management Director Russel Stukey regarding recruiting, saying they continue to actively seek volunteer firefighters in Riley County Fire District No. 1. In addition, he says work continues on replacing two fire stations, at University Park and Ashland. Bids were presented Monday to commissioners, much higher than staff anticipated.
"In my opinion we can't afford the prices that were presented to us. I think there's a couple options we'll be able to look at. I know we got quotes prior to the bid process that were much lower that what we got (Monday)," he said.
The Ashland station is a one stall bay with a dirt floor and the University Park station is a two stall building. Both were built in the early 1960s when the fire district started. Stukey says to save money on the project, the county could potentially be its own general contractor, and handle some of the dirt work themselves.
"From the numbers that I've seen we could easily instead of (spending) $300,000 we could get something done for less than $200,000. For a 30 percent savings, I think we have to explore that option," he said.
The board also heard from the Riley County Police Department. As he noted on KMAN's In Focus last week, Director Brian Peete reiterated the fact that property crimes are on the rise as are social media threats. In many cases those threats he says have been isolated and says there are no trends that give RCPD alarm.
Peete then turned the microphone over to Sgt. Pat Tiede, who will assume the supervisory role in northern Riley County soon. Tiede says he's looking forward to the change of responsibilities and has been impressed with the communication between officers and residents in the north county area.
"And it spans borders. The officers email, call, talk to residents, talk to Clay County officers, Pottawatomie County, Washington County. Since the crime is not nearly what it is in the City (of Manhattan), those officers are able to focus more directly on those cases that they get," he said.
As for RCPD's reliance on the community, he says many cases are being solved quicker because of the vigilance of residents, particularly those with doorbell cameras.
"So much so, I'm buying another one. It has helped us tremendously and it's not us doing it, it's the public. Thank you for what you're doing and please continue to do that. You're being great neighbors," he said.
Residents can register their cameras with Safe Cam, a community watch program. Information is available at rileycountypolice.org.
The Riley County Commission has additional evening meetings planned throughout the year.
Thursday, June 29th at Leonardville Community Building, 118 N. Erpelding, Leonardville
Thursday, August 31st at Randolph VFW/City Hall, 108 W. Randolph, Randolph
Monday, October 30th at Ogden Community Center, 220 Willow Street, Ogden