Pottawatomie County Public Works Crews have been given the go ahead to begin design of a bridge replacement project on Havensville Road.
The bridge in question was damaged following a car accident in mid-April. Public Works Director Tim Eisenbarth says with a planned bridge project just down the road, it may make sense to do both projects simultaneously, to avoid a prolonged closure of Havensville Road.
Start time for construction on the other bridge is scheduled sometime this fall.
Commissioner Greg Riat noted he's had several calls supporting that option, noting it would be better for farmers to avoid limited access to fields. He and fellow commissioner Pat Weixelman supported moving forward on both projects. Commissioner Dee McKee opposed, feeling the priority for road work should be in the more populated area near Blue Township.
Commissioner Riat noted that the Havensville Road sees about 400 vehicles per day. The two bridges are both about 90 years old.
In other business Monday, the commission also heard from Public Information Officer Becky Ryan.
Pottawatomie County has sold medallions for years to help support upkeep of the Veterans Memorial, located near the historic county courthouse in Westmoreland. Ryan says those sales continue for $25, but in addition, commemorative coins will soon be available to the public.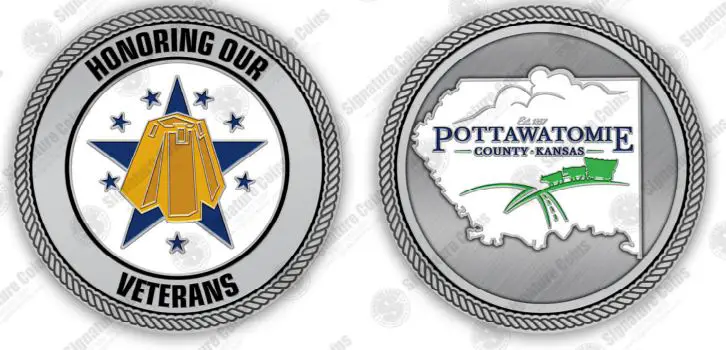 The coins are two inches in diameter with the front showing an image of the memorial and the back with the Pottawatomie County logo. The memorial was dedicated in May 1992 to honor veterans residing in Pottawatomie County that served after Dec. 31, 1946. Ryan says a digital component to the memorial is also in the works.
The commemorative coins will be sold for $10. Anyone interested in purchasing a coin, medallion or adding a name to the memorial should call the Pottawatomie County office directly at 785-457-3455.
In other business Monday, the commission approved an increased appropriation for Flint Hills Area Transportation Agency for 2024.
Executive Director Anne Smith says the increase to $30,000 annually is needed, due to continued inflation and stagnant growth in local match funding.
Over the next year, Smith says the ATA will be looking to increase awareness and education about the organization. They'll also be exploring the potential of bringing in electric vehicles to potentially replace some of its current bus fleet, noting ongoing challenges with supply chains and rising costs.
The increased appropriation for 2024 amounts to $5,000 on the services contract.