Pottawatomie County commissioners on Monday approved moving forward on a 50/50 grant to make repairs on the Louisville Road Bridge over Rock Creek.
The rural bridge, located about a mile east of Flush Road, was reduced to one lane toward the end of last week after a 3-by-3 foot hole was discovered on the bridge deck. Public Works crews covered the hole with a roughly 10 by 12 foot plate, in order to reopen two-way traffic. Nearby residents spoke during public comment Monday. County resident Mardi Edwards says her late husband was struck on the bridge over a decade ago by a speeding motorist.
"I feel it is important to get it replaced. That is a school route. I know that you have done repairs on the bridge, but that's just not good enough anymore. It's getting to where it's a real detriment and I'm afraid someday some school kid is going to be flying through there and get hit," she said.
County resident Clara Ebert echoed the call for something to be done calling the bridge a danger to any who crosses it.
"We either need to close it down until it can be replaced or something. I don't know what else to say because somebody's going to go in that creek one of these days or have a horrible accident," she said.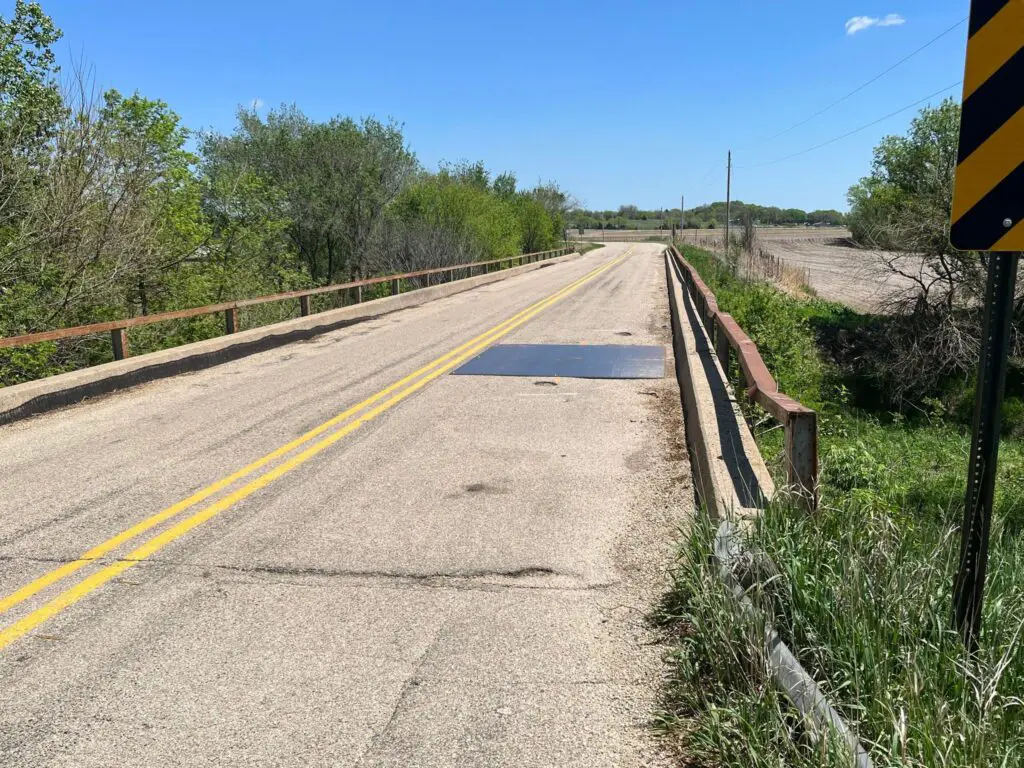 Project Coordinator Steve Roggenkamp stated the bridge was targeted for replacement over 15 years ago, but then was halted after bids came in above the engineer's estimate.
"The project was designed, it was let for bid but came in over the engineer's estimate. The deck they proposed was a composite-type deck. In the time between the bids coming in over the engineer's estimate and trying to get it re-bid, this similar product in Kansas City started deteriorating in spots, and at that time the project was halted," he said.
The bridge replacement is anticipated to cost roughly $1.5 million. County Engineering Consultant Nathan Bergman says that doesn't include possible realignment of the bridge.
"I'd budget $150,000 to $200,000 and then we can do an analysis of what we think the construction cost of  alignment is going to be and then we can decide if you want to shift that road over or not," he said.
All three commissioners expressed support for moving the bridge up on the county's priority list of bridge projects.
Commission Chair Pat Weixelman motioned to get started on engineering but also keep applying for the state grant, noting the county's continual struggle to obtain right-of-way acquisition.
"We get these projects everybody's gung-ho for and willing to give you everything you need, then when it comes time to cut the cake — total different story," he said.
Weixelman says along with the engineering, he wants to know up-front what the cost incurred to the county will be to obtain right-of-way agreements.
The county has been seeking multiple ways to obtain grant funding to support replacement of the 70-year-old bridge, which has a 20-foot roadway width and a 47.8 sufficiency rating, according to Pottawatomie County Public Works Administrator Tim Eisenbarth.