by Mason Voth • EMAWOnline – Managing Editor – @TheRealMasonV
Almost one year to the day K-State announced their start times for the first three games of their season against South Dakota, Missouri and Tulane. Other schools are starting to get start times leaked for the start of the season or later games, due to TV designations. Here is a look at my projections for start times for each of K-State's football games in 2023. I have also added the network I expect the game to be televised on, which I feel less confident about.
SATURDAY SEPTEMBER 2ND vs. SEMO (6:00 PM)
In the normal seasons where the Wildcats open at home, you have to go back to 2010 for the game against UCLA where K-State didn't kickoff at 6:00 PM or later. More to it, the last time K-State faced an FCS opponent at any time earlier than 6:00 PM was the 2009 season against Tennessee Tech, which was K-State's second game against an FCS opponent as they opened at home in the evening against UMASS.
So to me, it is a lock that the Wildcats and Redhawks will be kicking off in the setting sun and finishing under the lights.
TV: ESPN+
SATURDAY SEPTEMBER 9TH vs. TROY (11:00 AM)
Chris Klieman has been pretty open to admitting that he prefers the 11:00 AM kickoffs, and while this game in past years would be primed for a miserably hot 2:30 PM kickoff on ESPN+, my guess is the Wildcats learn their lesson and treat the 2:30 kickoff against a Group of 5 opponent like the boogeyman. If it isn't an 11:00 AM kick then it will certainly be 2:30 PM, so I will hedge my bet a little.
TV: ESPN+
SATURDAY SEPTEMBER 16TH at MISSOURI (6:30 PM)
Last season K-State and Mizzou resumed their old Big 8 rivalry at 11:00 AM and dealt with long weather delays on ESPN2. This game would seem primed for a similar treatment, two power conference schools, but with the game being in Columbia this season, the possibility of it being televised on SEC Network exists. That is why I am zigging a little with this pick and expect ESPN/SEC Network to designate this for it's primetime game on Saturday night.
TV: SEC NETWORK
SATURDAY SEPTEMBER 23RD vs. UCF (2:30 PM)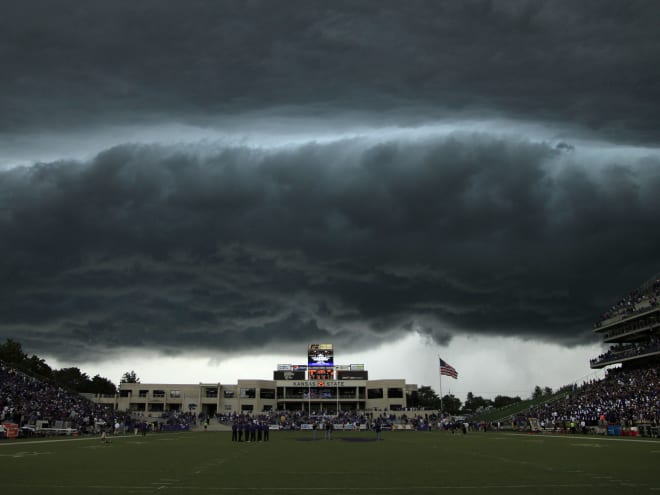 We can't talk K-State versus UCF without discussing the famous storm game, we are going to see this picture a lot come September 23rd.
As for when this game might kickoff, there will be a couple of options lurking out there. With 14 teams in the Big 12 and seven league games each week it is likely that more games than ever will be shoved on ESPN+ this upcoming season. This game could be a candidate for it, but I expect both teams to be looking good record-wise.
Texas at Baylor will likely get the 11:00 AM on FOX treatment with Big Noon Kickoff, and BYU against KU will be another marquee game early in the season. This game seems like it will get nestled into the 2:30 slot and could have a long list of homes that could broadcast it.
TV: ESPN2
FRIDAY OCTOBER 6TH at OKLAHOMA STATE (7:00 PM)
This was the first real surprise when the Big 12 released their schedule in January, five separate weeks of the season will feature one Big 12 football game on either Thursday or Friday night. We know this will be a night kickoff, the question will be is it on ESPN or FS1?
TV: FS1
SATURDAY OCTOBER 14TH at TEXAS TECH (11:00 AM)
Week 7 is a light schedule in terms of big games, and I think both teams will be top third of the Big 12 finishers this season, so I project that this will be a Big Noon Kickoff game. It will be quite the switch-up for a K-State versus Texas Tech game, but I am banking on the people of FOX deciding this is worth more than Michigan thrashing Indiana in the Big House. (I know that I will be wrong on this one)
TV: FOX
SATURDAY OCTOBER 21ST vs. TCU (2:30 PM)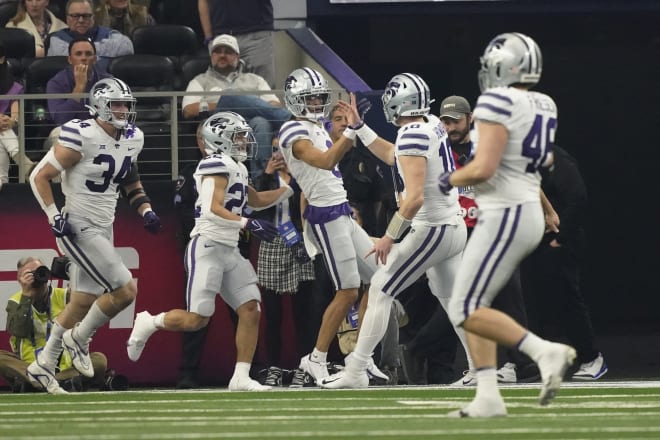 The Big 12 title game rematch will carry some juice, but TCU is going to be an unknown entering the season. They could be a good team in the neighborhood of 8-4 or they may take a big step back and be closer to .500. The Big Ten has a strong lineup of games this week and will likely dominate the FOX networks, leaving just ESPN networks. Because of the unknown and better options out there, I think this game heads to ESPN2.
TV: ESPN2
SATURDAY OCTOBER 28TH vs. HOUSTON (11:00 AM)
Houston is going to be really bad in 2023 and a road trip to face a team that many think could repeat as Big 12 Champions doesn't make for compelling TV. It does make for compelling internet streaming though!
TV: ESPN+
SATURDAY NOVEMBER 4TH at TEXAS (6:30 PM)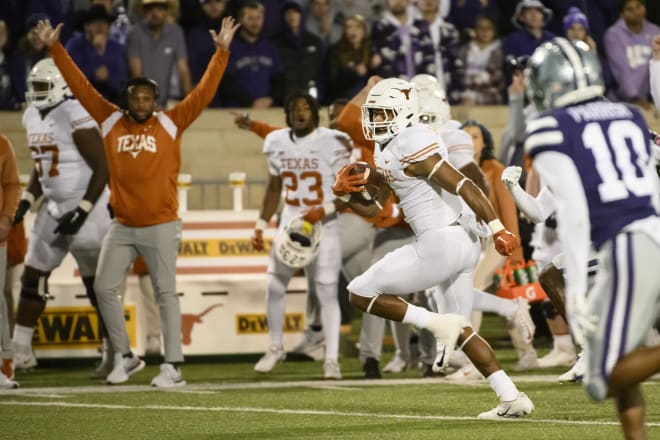 If both teams are on the trajectory that many project this offseason, the two teams will be playing a game that likely sees at least the winner headed to Arlington for the Big 12 title. This game is going to have a lot of implications attached to it and will be a great game.
TV: ABC
SATURDAY NOVEMBER 11TH vs. BAYLOR (11:00 AM)
This game could be really important late in the year, but earlier this month I said Baylor would hit the under on their win total. I think the Bears will be respectable, but nothing to write home about. This seems to be a game worthy of an 11:00 AM kickoff.
TV: FS1
SATURDAY NOVEMBER 18TH at KANSAS (6:00 PM)
There are some strong games in the Pac-12 that will take up later kickoffs on FOX networks, but the SEC schedule is pretty light so I expect K-State and Kansas to end up on an ESPN network. Last year we got a night kickoff for the two in-state rivals and I thought the environment was awesome now that Kansas is relevant in football, this rivalry at night in Lawrence would be something that is attractive.
TV: ESPN2
SATURDAY NOVEMBER 25TH vs. IOWA STATE (2:30 PM)
This game is a tough one to peg, late in the season games will be determined by how teams are performing and their significance in the grand scheme of things. Iowa State has some really interesting things going on around the program, and they aren't great. The offense was putrid last season and squandered a really talented defense, plus they have players in the middle of gambling that would make them lose their NCAA eligibility. Iowa State is going to be a middle-of-the-pack at-best team in 2023, this will be a middle-of-the-day start with a less-than-special TV slot.
TV: FS1