by Mason Voth • EMAWOnline – Managing Editor – @TheRealMasonV
Spring football is almost a month in the past and now the Wildcats have their focus back on filling out the 2023 roster with some late additions and building the 2024 and 2025 classes. With that in mind, I figured now was a good time to give a refresher of what the depth chart might look like come the season opener on September 2nd against SEMO.
Each piece will focus on one position group and by the end of the series, we should have a full projected depth chart in place. It seemed best to start with the most important position and also the one that is the clearest on who number one will be.
WR1: KEAGAN JOHNSON
Keagan Johnson
 was the biggest transfer addition in 2023 for K-State, the former Iowa Hawkeye selected the Wildcats and gave them a big boost to a wide receiver room that was losing Malik Knowles and Kade Warner from the season prior.
In two seasons at Iowa, Johnson caught 20 passes for two touchdowns and 360-plus yards, but he only produced in one game in the 2022 season for Iowa and decided to move on. Johnson also dealt with an injury during his time at Iowa.
Johnson was a four-star receiver out of high school and is in need of a fresh start, similar to the talented corner Julius Brents who made the same move from Iowa to K-State and just became a second-round draft pick.
Johnson's experience, although limited, plus his skill set and potential makes him the no-doubt number one target exiting spring ball and heading toward the start of the season for K-State.
WR2: PHILLIP BROOKS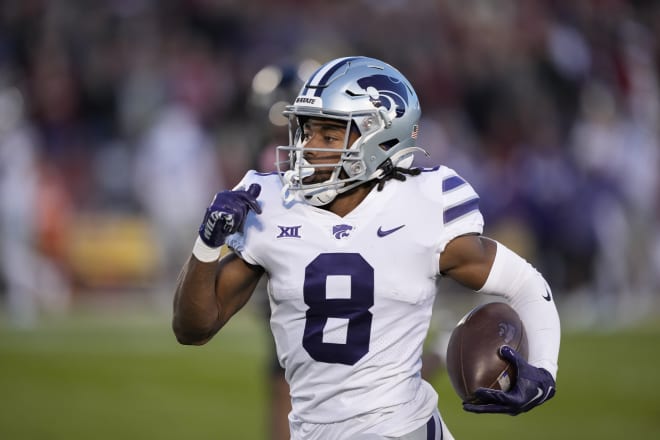 Phillip Brooks
 has the most experience on the roster for K-State and I thought he took a strong step forward in 2022 as a true receiver for the team. He was more consistent with his hands, hauling in passes that had been drops in the past and becoming a reliable target for both 
Adrian Martinez
 and 
Will Howard
.
Brooks had the most catches, yards and touchdowns of his career in 2022 with K-State's new and improved passing attack led by offensive coordinator Collin Klein. The question that Brooks and other receivers will face is what development and production look like this season with yet another new wide receivers coach as Matthew Middleton replaces Thad Ward.
Brooks will never have "game-breaking" ability in the passing game like Knowles possessed and K-State hopes that Johnson has, but his reliability and experience will give him a chance for a significant amount of production in 2023.
WR3: RJ GARCIA or JADON JACKSON?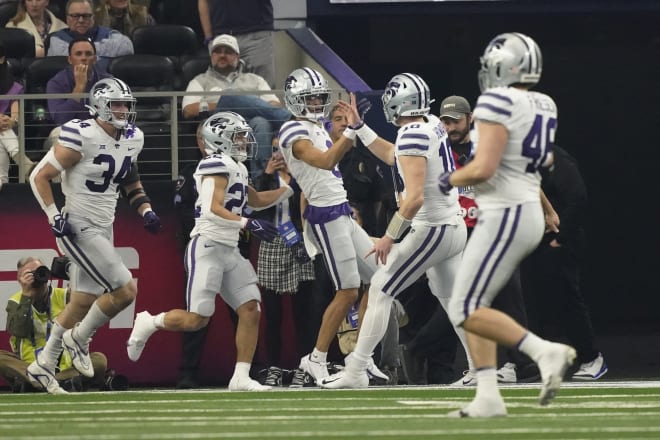 RJ Garcia
 caught the first touchdown pass of his career in the Big 12 Championship last season, it was a bullet and gutsy pass from Will Howard. Garcia reached up and snagged it for a massive play. Outside of that, Garcia caught just six other passes during the course of the season and the questions regarding him will be about durability and production relative to his size.
Another possible option at wide receiver is Jadon Jackson, who transferred from Ole Miss prior to the 2022 season. Both of Jackson's catches last season came in the Sugar Bowl against Alabama and he played in the maximum number of games to preserve his redshirt. Jackson had SEC potential but couldn't find the field at Ole Miss consistently and this season presents his greatest opportunity to produce on a college football field with the depth chart wide open.
OTHER CANDIDATES: STERLING LOCKETT, JAYCE BROWN, TRE SPIVEY, XAVIER LOYD
K-State's open wide receiver position could see some younger players find the field at points during the season. K-State legacy Sterling Lockett has surprised some and performed well behind the scenes and will be a legitimate contender for time, whether it is this season or next season.
Incoming true freshmen like Tre Spivey and Jayce Brown could also showcase their talent and get early playing time. Erwin Nash and Xavier Loyd are other players that have been in the program and could easily find some reps here and there.
The amount of players that will have the chance to see the field in 2023 easily showcases why K-State's offense, which has very few question marks, will have wide receiver as the biggest. Talent that has yet to really prove itself at the college level, outside of Brooks.