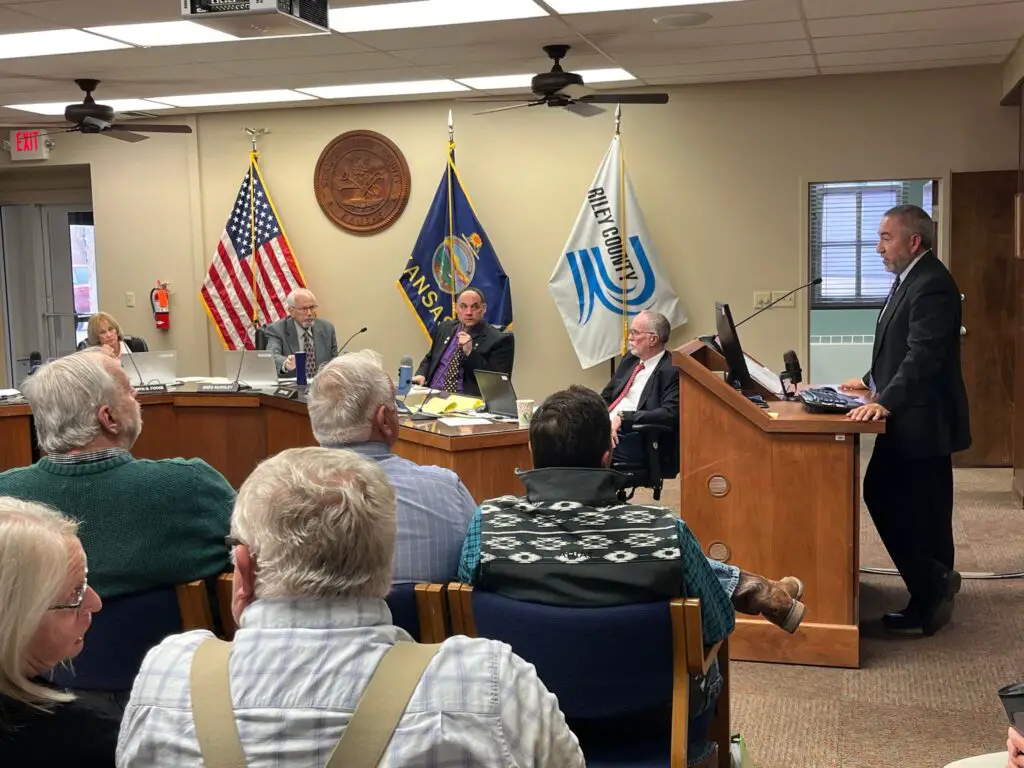 Riley County Commissioners voted 2-1 Thursday, finding the Keats Sewer District project is still feasible, despite cost estimates coming in 13 to 18 percent higher than originally anticipated.
The commission left the door open to re-evaluate their decision early next year.
Following the meeting, Commissioner Kathryn Focke spoke with KMAN about the board's difficult decision.
Focke supported a motion from Greg McKinley to continue with the project until the county finds out if the project qualifies for grant funding. McKinley stated that pulling the plug on the project now, would essentially mean the county would be starting over from scratch on the much needed project.
Commissioner John Ford opposed, saying he believes the project is not feasible, based on the increased costs as well as testimony from those who spoke at Thursday morning's public hearing.
Despite his opposition, Ford says he does not favor dissolving the district.
Earlier this year, Riley County determined a lagoon would be the more affordable option for the 67 property owners who make up the Keats Sewer District, due to the much higher projected costs if the area connected to the City of Manhattan. Focke says she still believes this to be the best option, though a location for the proposed lagoon has not yet been determined.
The board's decision followed about 40 minutes of public comment from more than a dozen Keats residents, many of whom say the added special assessments, which would be applied over 40 years, is simply more than they can afford. Among them were Keats resident Amy West.
Longtime Keats resident Denise Fangman said she favors dissolving the district.
Riley County Clerk Rich Vargo says Keats is on the short list for at least one grant that would fund up to half of the estimated $4 million plus project. Riley County has also earmarked $800,000 of American Rescue Plan Act (ARPA) funds to support the project.
As for a timetable, officials say the expect a decision about funding in June 2024. The grant application has been filed and accepted by the USDA. Riley County will develop project specifications for USDA to evaluate, meaning a site for the lagoon must be selected, along with a basic project proposal by February, to stay ahead of the June deadline.