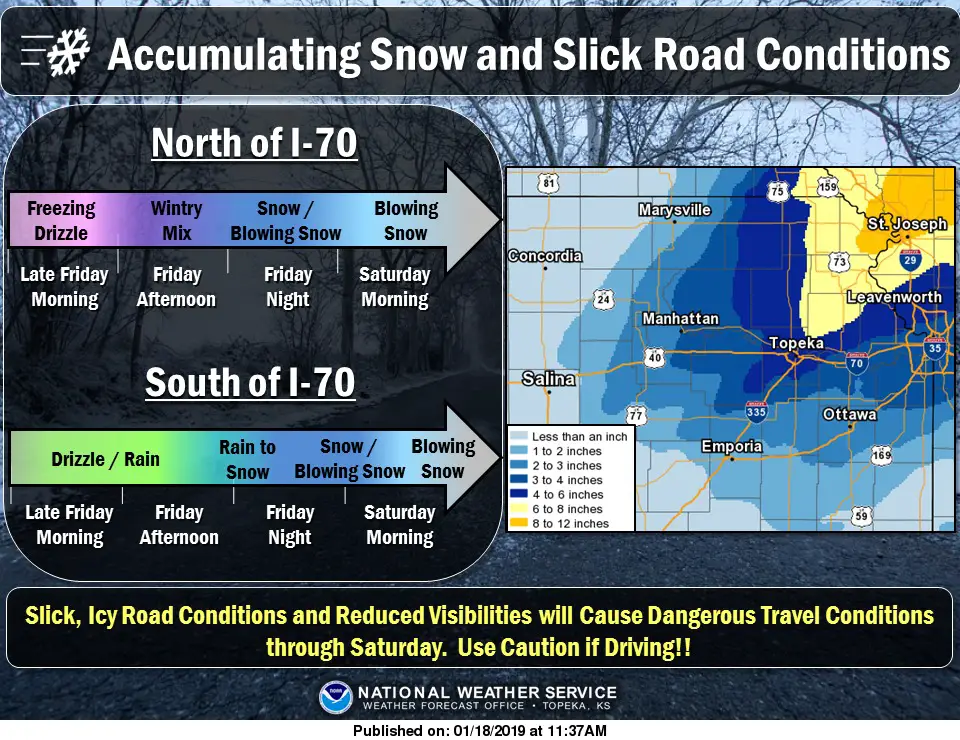 MANHATTAN — Another round of winter weather is expected to move through the area this weekend and Manhattan street crews are ready to go.
The National Weather Service in Topeka has issued a
Winter Weather Advisory until 6 a.m. Saturday
for the Manhattan area now increased the expected snowfall potential for portions of east-central and northeast Kansas with 3 to 7 inches of snow now expected late Friday into early Saturday morning. Manhattan Street Superintendent Jeff Davis says they've been monitoring for the potential of rain and freezing rain, eventually turning to snow.
As is the case with any snow storm, Davis says
primary routes
are always their first priority so they advise patience.
As for the potential of refreezing, Davis says it shouldn't be a major problem this weekend.
Earlier this week on KMAN's In Focus, Riley County Commission Chair Ron Wells praised Riley County Public Works officials for their tireless work this season to keep county roads safe ahead of anticipated winter weather. Wells says payroll sheets show crews putting in lots of overtime last month, which is money he says is well spent.
Part of that well spent money at the county level has gone toward maintaining good quality equipment, according to Wells.
Freezing rain gives way to a wintry mix by the overnight hours Friday into Saturday before changing to all snow. The combination of accumulating snow, gusty winds causing reduced visibility from blowing snow, and low temperatures plummeting into the teens tonight will result in slick roads and dangerous travel conditions, according to the National Weather Service.