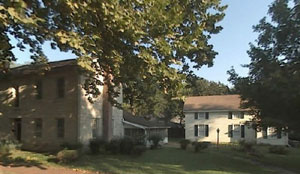 MANHATTAN — Fourth graders from all over Riley County will experience life in the 1800s this week at the Wolf House.
Riley County Historical Museum Curator Allana Parker says the kids will be able to see the food of that time, the differences in the way people use different rooms, and even hygiene.
"One of the most coveted stations is to be able to talk about hygiene during the 1880s including the outhouse and chamber pot. Kids always seem so surprised that is how people handled their bathroom duties back then," said Parker.
Students this week also are learning how to wash clothes using the technology and techniques from the time period. Parker says the reactions from students in the past has been pretty positive.
"Their eyes get really big when they come through that front door because there's so much visually to take in. I think that comes from the Victorian decor. The Victorian era really emphasizes abundance," said Parker.
Over 450 students at each of the Riley County elementary schools are taking part in the tours which have been going on now for over 25 years. In addition to personal hygiene, students will be able to see how those living in the late 19th century ate and prepared food.
"We use real food. We really try to appeal to the five senses so they get to touch things. They won't get to taste things. We have things like sardines and bread on the table," said Parker.
Additionally, those students stepping into the Wolf House will also step back in time musically as officials with the Riley County Historical Museum will play music from the time period to greet the students. The fourth grade tours are happening through the end of the week.