Today we visit Manhattan High School as we continue our KMAN news series "From the Principal's Office."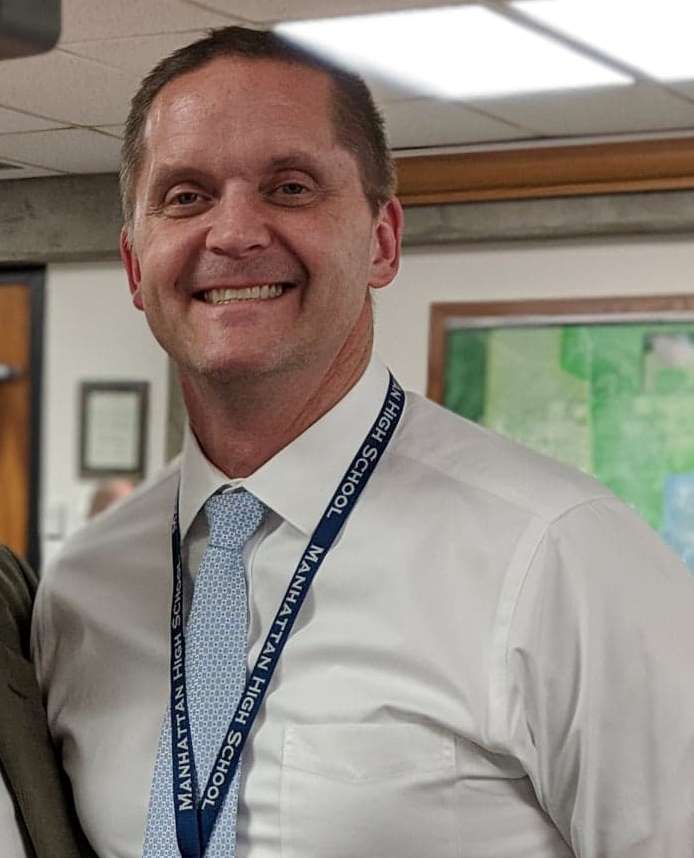 Manhattan High School students will see a new, but familiar face in the principal's office for the new school year.
MHS Principal Michael Dorst is starting his first year as the school's principal next week. Dorst had been serving as the assistant principal at MHS for the past six years, and overall has spent 12 years with the district.  He has a combined total of 22 years in education.
Dorst says he's excited to get to work and see the school start to come alive as classes get underway.
"To talk with our staff, both new and returning and the excitement they have for the upcoming school year. We have some additions, we have some changes, we have some new staff. What I've seen is they're great people," Dorst said.
Dorst says he has not yet met with his teachers officially, but wants them to look at how they define themselves as a successful school.  He wants to look at the indicators and programs that make MHS what it is. As for what the students can expect for the new year, Dorst says they can expect two counselors per grade level.
"Going to a two-counselor comprehensive model per grade is a much better model than a lot of schools have. We're down to averaging one per 200 to 225 kids. We feel like we can meet the overall needs of the whole kid," Dorst said.
There will also be more focus on helping at-risk students.  Dorst wants the students not only to graduate from MHS, but also be successful afterwards. Dorst says the social emotional health of a student is what is at the foundation of providing hope for a student.  The comprehensive counseling model will play into what is positively or negatively affecting their social emotional health.
"You try and you try and you try again. The most successful, the best experiences that educators have that I've had are times that you've invested a lot. The days you graduate a kid that you've invested a lot in, those are the days that I think as an educator you get hooked on and that's what keeps you coming back," Dorst said.
When it comes to the role of the principal is someone who brings in the right people, to assemble a great team, and know how to place resources in the right time and location.
"It's a bit of a juggling act and a challenge but it's so enjoyable and so rewarding because you get to see not only students succeed but also the joy in our educators as they succeed in doing that important role for our kids," Dorst added.
Open house at both the east and west campuses is from 6 to 8 p.m. Aug. 13 Classes begin with a half day Aug. 14 and the first full day of classes Aug. 15.