As Manhattan moves toward redeveloping Aggieville, some business owners asked the city to be cautious about the placement of the proposed parking garage.
Bill Varney with Varney's Inc. urged city commissioners to table the motion. He questioned how the 489 stall garage would impact traffic to businesses like Goodcents if there were no space between the structure and existing buildings to the south.
"You would be standing there right after you got out of the building and looking up 50 feet," he told the commission Tuesday night.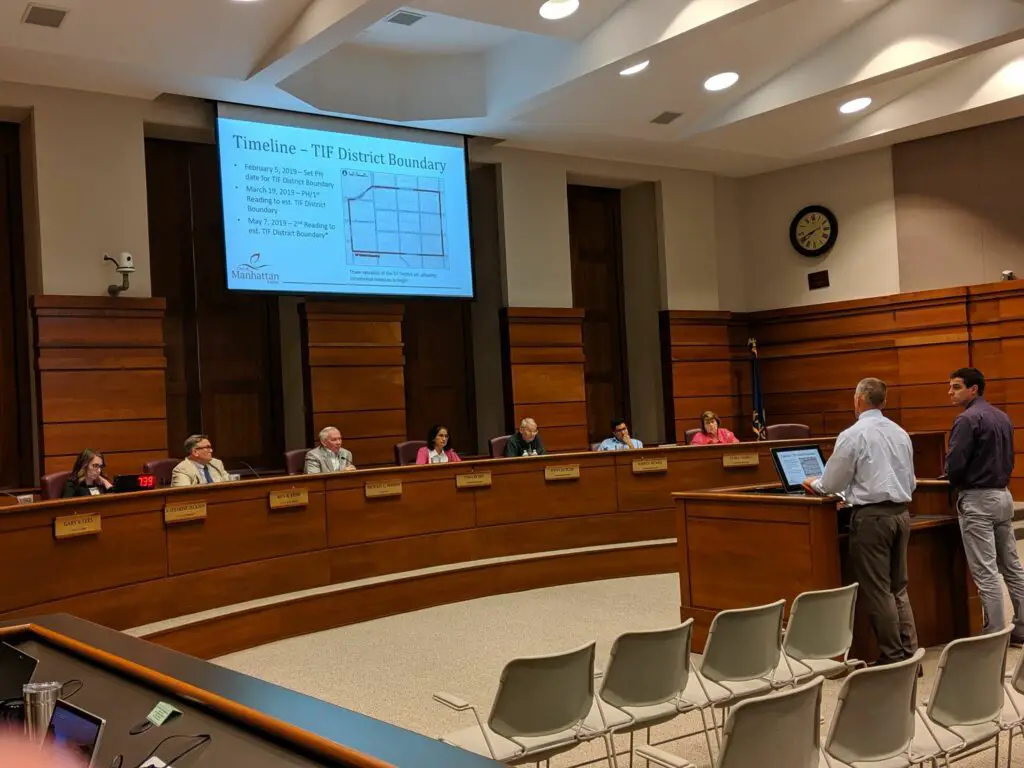 Aggieville Business Association Director Dennis Cook told commissioners 95 percent of business owners are in favor of the redevelopment plan in its entirety. He says the plan will be nothing but positive and that it can help Aggieville grow as an entertainment district and bring in a new tax base.
"Knowing who we are competing with, these are the kind of things we need to develop. We need to do this and we have a district that's been ignored for a number of years and it needs to be spruced up," Cook said.
Commissioners unanimously adopted a motion to move forward with future redevelopment. It lays out public infrastructure improvements around the district including street landscape alterations and a public parking garage. To complete the multi-phase plan would cost between $23 and $30 million.
Commissioner Jerred McKee questions whether the parking garage should be the first project to tackle, but says all aspects of the plan are good if funding comes through.
"When it comes to these additional infrastructures and amenities on things like 12th Street and Laramie that really could create flare and pizzazz that people my age that I know and work with are excited about, that's what I want to spend money on," McKee said.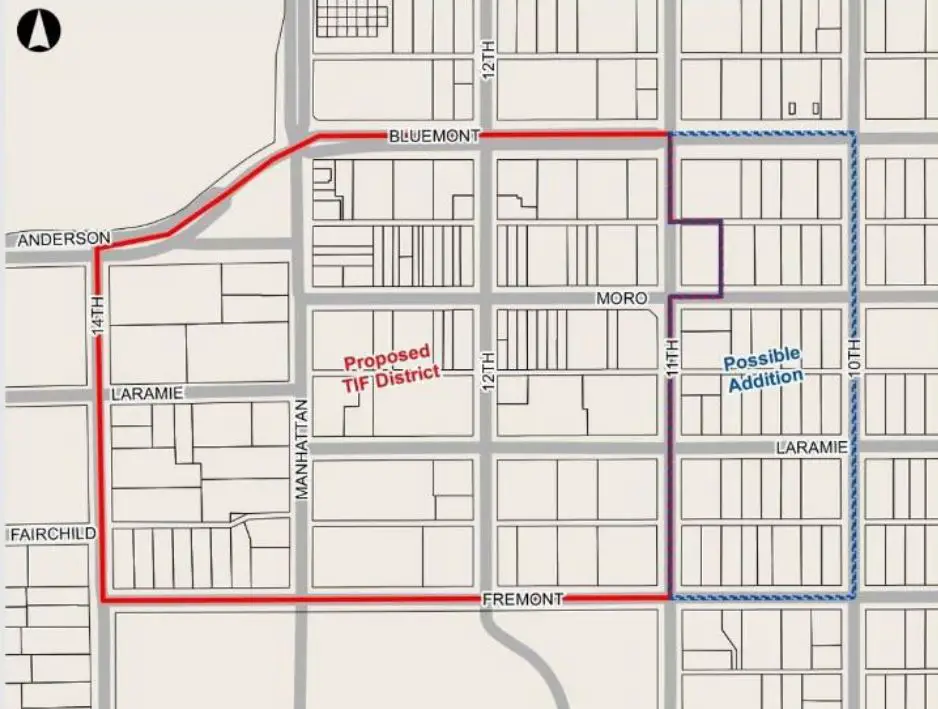 The TIF district funding the redevelopments is projected to bring in between $15 and 20 million, part of the motivation for the 0.3 percent sales tax question on the November ballot. The plan doesn't necessarily finalize plans for the future. Rather, it moves forward with a concept plan.
"The catalyst is parking number one and then how we phase that in as commissioner McKee says, maybe the 12th Street thing gets done first before the garage based on money coming in and logical reasons," Commissioner Wynn Butler said.
Mayor Mike Dodson says the district is one of the entry ways into Kansas State University.
"And having that really an eye catcher and perhaps in the future a center for entrepreneurship is very encouraging," Dodson said.
Commissioner Linda Morse says they have the future of Aggieville in their hands.
"And we have to blow oxygen to it and make sure that it keeps a fire," she said.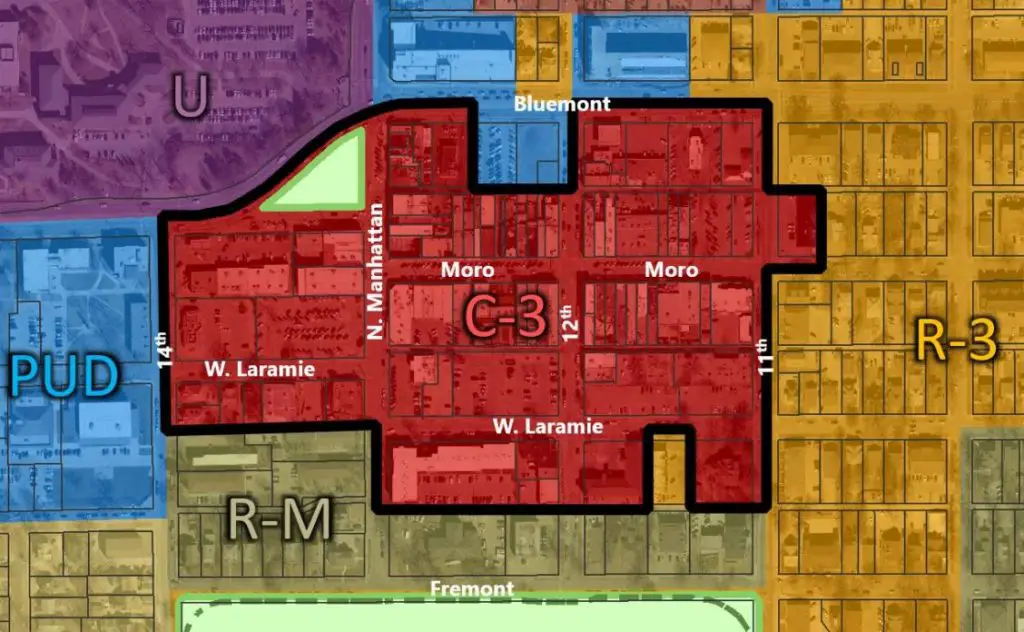 See also: Manhattan amends Aggieville zoning, approves public improvements for new development
Budget passes 3-2 on final reading after more discussion Tuesday
In other business Tuesday, the commission held a little more discussion on the 2020 budget before final approval. The discussion was at the request of Commissioner Butler who proposed holding contractual and commodities budgets to 2019 levels, not giving a 1.6 percent cost of living adjustment to employees making more than $120,000 per year.
"I'm not saying across the board slash because I get it, you've got retention issues and you've got to keep certain people, but is that true for all of them and those top 16 positions? I don't think so," he said.
Mayor Pro Tem Usha Reddi opposed Butler's suggestion noting such cuts would have deep, lasting impacts.
"It impacts retirement, it impacts KPERS, it impacts other areas of a person's life and most of these people are not getting rich off of us," she said.
Mayor Dodson says they need to remember they cut $2.5 million out of the originally presented budget and that a $230,000 cut at this point, may be symbolic.
"We don't have a lot of options. I agree with Commissioner Reddi that we need to move forward. This is not the time to pull back. We need to make sure we're making investments to make this community better and stronger," he said.
Commissioner McKee also opposed approving the budget, saying they could find cuts this year, though it would hurt, but that long-term such cuts are not sustainable.
"We're going to face this same exact problem next year and we're going to face this same exact problem the year after unless something fundamentally changes," he said.
The mill levy is set to rise 0.406 mills, adding an estimated $22 to property tax bills for homes valued at $200,000. Commissioner Morse says that Manhattan can't stagnate at this time.
"We are moving in the right direction and we're taking some of the necessary steps we have to to continue to grow into the future. And it's that future that we're working toward," she said.
Finance Director Bernie Hayen also cautioned against cutting cash reserves and says rating agencies are aware of their flattening revenues and their need to offer competitive salaries.
"It rings the death nail in our rating agencies to see that kind of movement take place," he said.
Hayen says a bond rating downgrade would cause Manhattan's interest on current and future bonds and loans to jump.
The budget passed second reading by a 3-2 vote, with Butler and McKee opposing.