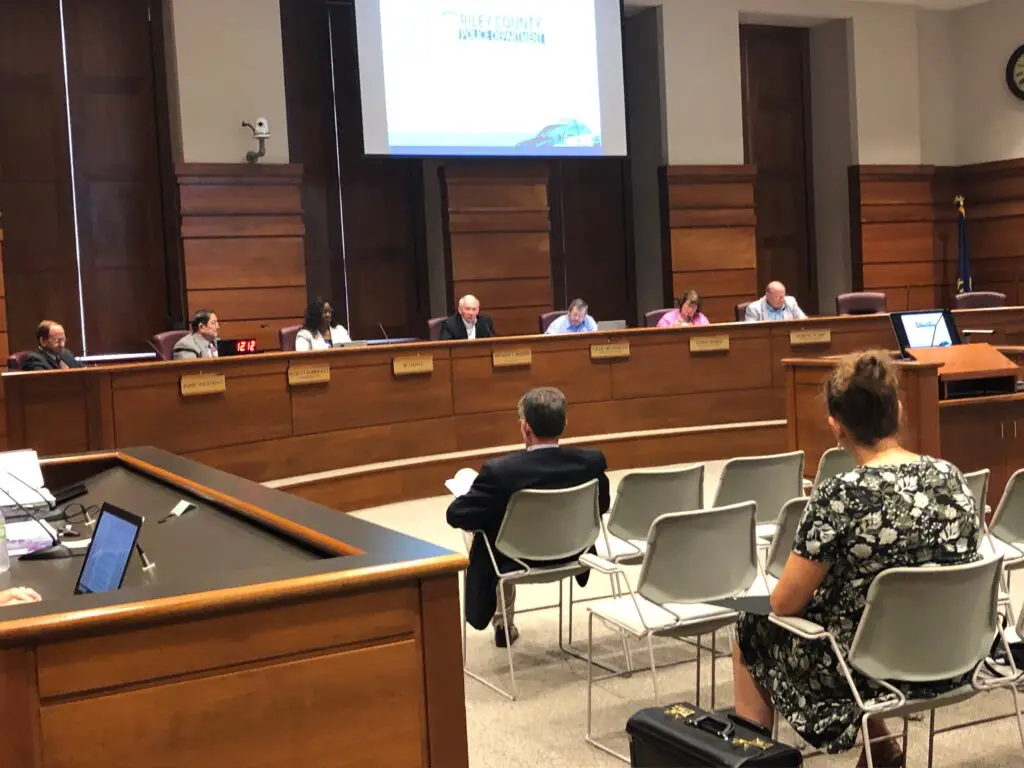 The Riley County Law Board has approved a new policy allowing the use of unmanned aerial systems (or drones) to aid in the assistance of law enforcement investigations.
Last year the Riley County Police Department launched a pilot program where drones were implemented in certain situations at the discretion of the captain of a patrol division. Assistant RCPD Director Kurt Moldrup told the Law Board Monday they've found drones to be very successful in emergency scenarios such as flooding as well as criminal investigations.
Drones can also be helpful to aid if a person runs from the scene, mapping crime scenes, in support of traffic crashes and other incidents. There are times when the use of a drone would require a search warrant. While it's not always clear when a search warrant would be required, RCPD Director Dennis Butler says they'll have a procedure in place if there's any uncertainty.
Law Board member Craig Beardsley questioned how the unmanned aircraft would be utilized outside of RCPD's jurisdiction and how that would impact insurance. Director Dennis Butler says his understanding is that insurance would follow even outside their jurisdiction. As for the guidelines surrounding drone usage, Butler says also would apply no matter where RCPD operates.
RCPD currently has four all-weather drones in its fleet. RCPD Sgt. Doug Wood conducted last year's feasibiltiy study and says after experiencing technical issues during inclement weather, they found aircraft that will fly regardless of weather.
As for cases when the drones are deployed to search for missing persons, Wood says there are instances when a search warrant may be needed, but says typically they will fly high enough to see a broad area. A good example of when a search warrant may be necessary he says would be an enclosed building that is being the normal line of sight. If they have probable cause, RCPD could get a search warrant to fly closer to the property.
In other business Monday, the Riley County Law Board briefly discussed the RCPD firing range progress. No updates were given as for the close of the sale. Director Butler says the item will be on each month's agenda in case any new developments take place.
RCPD Capt. Tim Hegarty presented highlights of the RCPD new strategic multi-year plan. It includes the addition of a vision statement within its mission statement that reads: "RCPD will strive to be the premiere Kansas law enforcement agency by using strategy, innovation and accountability to collaborate with community partners in solving community harms through the most cost-effective manner possible." Hegarty says they may not entirely get to that goal, but says it is the bar they've set for the department.
Law Board member Be Stoney complimented RCPD leadership for carefully thinking through building a culture of service for the organization and holding each other accountable in the creation of the plan.
The Law Board tabled discussion on its off-site goal setting.