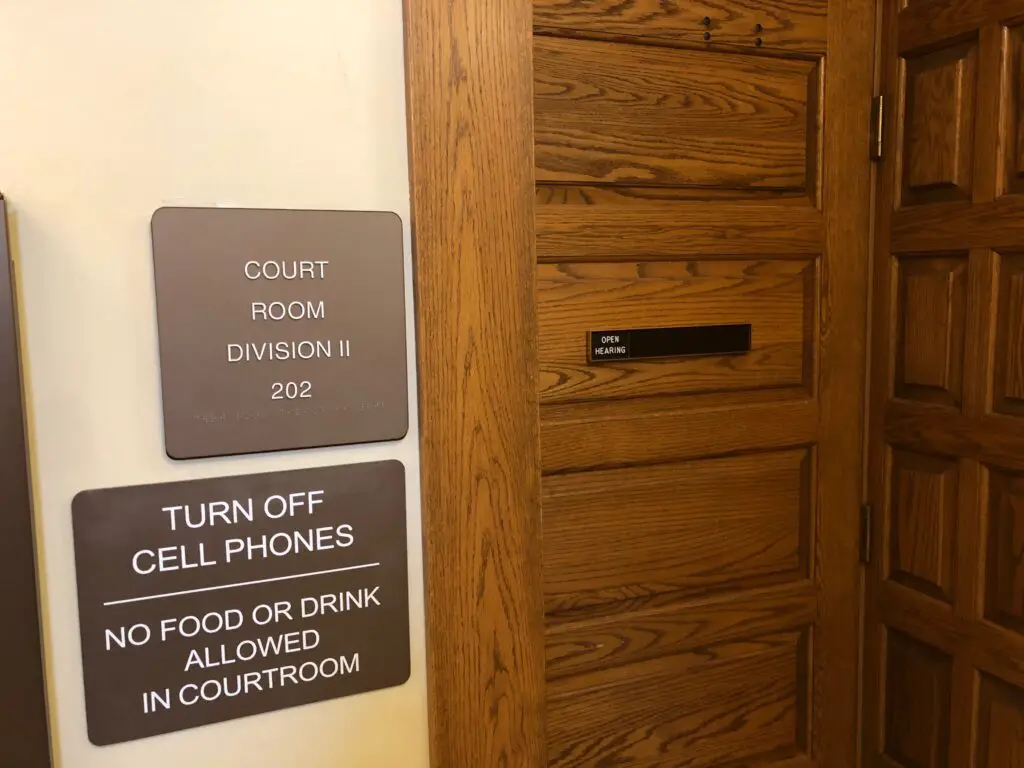 A Riley County jury was unable to reach a unanimous verdict in the murder trial of 23-year-old D'Khari Lyons, resulting in a mistrial.
The jury deliberated into Tuesday, sorting out the evidence against Lyons, who is charged with first-degree murder in the death of his former girlfriend's infant son Michael Calvert, Jr. The 2 month old child was left in the care of Lyons for a brief time Nov. 8, 2018 while the mother, Jessica Hudson took her other two children to school. Lyons testified Monday that he was half asleep when Hudson left the child in the bed next to him with a bottle. He testified also that he tried to feed Michael but didn't actually see him drink.
The prosecution alleges it was an act of frustration that led to the child's death. The defense argues there was not enough evidence to prove beyond a reasonable doubt that Lyons was responsible.
A status conference is set for 2 p.m. Oct. 7 with Judge Meryl Wilson. At that hearing a new trial date will be set.
Original story Monday 6 p.m.
A Riley County jury is deliberating the fate of a 23-year-old Manhattan man charged with first-degree murder in the death of his former girlfriend's infant son.
Jurors heard witness testimony Monday from the defense, including an emotional D'Khari Lyons who said he was asleep Nov. 8, 2018 when 2-month-old Michael Calvert, Jr. began grunting and choking at the home of former girlfriend Jessica Hudson. Lyons told jurors just moments before, Hudson had placed the baby in the bed next to him with his bottle and sometime shortly after, Lyons attempted to feed the baby. He told jurors he cradled the baby, supporting his head then moved him from his left arm to his right arm, face down, in attempt to help him. He claims he pressed down on the chest in an attempt to mitigate the choking, but it's unclear from testimony whether the baby was shaken.
Lyons claimed he placed the bottle on the nearby nightstand, but investigators found the bottle on a dresser, which contradicts where he said it was placed. Lyons says he isn't sure how the bottle got from the nightstand to the dresser. Investigators found blood on the bottle, which the prosecution argued is key evidence in the case.
Senior Deputy Riley County Attorney Barry Disney says Lyons lacked an adequate amount of sleep, and while may have not intended on hurting the child, did so out of frustration when he heard the child crying out. He claims medical expert testimony heard during trial supports the claim that Michael Calvert Jr. was abused, sustaining fatal injuries to his head, neck and chest.
Public Defender Cole Hawver argued that it was Hudson who was inconsistent from investigation to courtroom testimony with her story about the events of that morning. He claims she had financial stressors, stored marijuana in the home near her children, suffered from depression and had problems with her former partner. He claims investigators also failed to interview co-workers, her other children, and failed to check Hudson's social media and medical history.
Jurors left the courthouse at 4:30 p.m. Monday with no verdict rendered. The jury plans to resume deliberations at 9 a.m. Tuesday at the Riley County Courthouse.