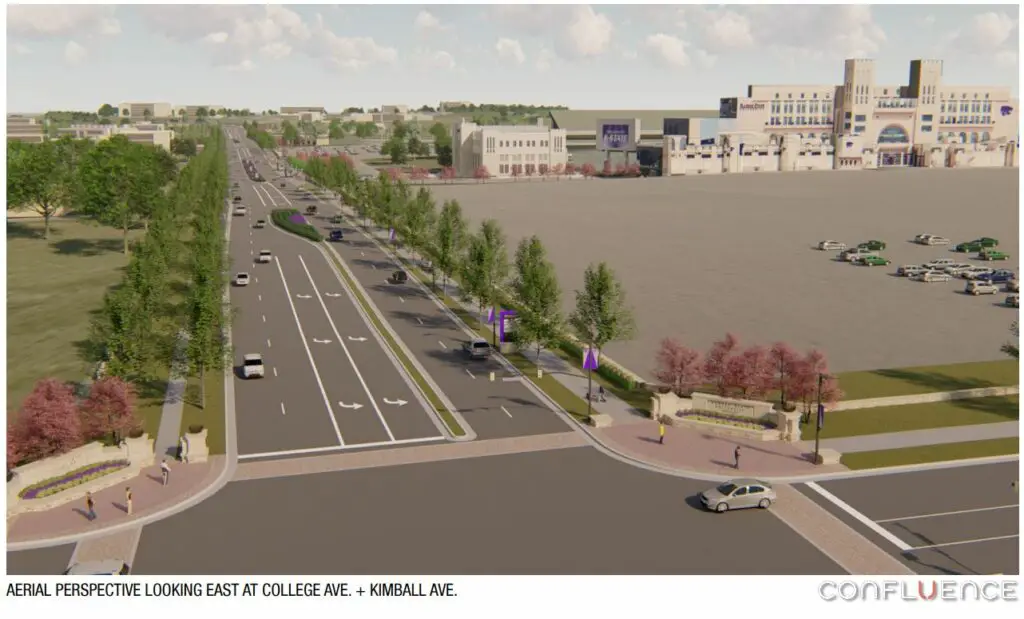 The Manhattan City Commission has paved the way for improvements at College and Kimball Ave. as part of its North Campus Corridor improvement project.
Wildcat Construction on Tuesday was awarded a $7.5 million construction contract, with BG Consultants receiving $130,500 for engineering services.The project will include complete pavement removal and replacement, widening of Kimball Ave. to six lanes with double turn lanes and longer left-hand turn lanes along College Ave. The total estimate on the project is $43 million over the next 14 years, including $20 million for street improvements and $23 million for landscaping and beautification of the area.
To finance the project the city plans to buy down principal using four years of revenue, including $2 million in existing Eco Devo funds through 2023. A total of $2.2 million in property taxes would be utilized to fund part of the remainder through 2033, but that could change if the Eco Devo tax is renewed.
"If we follow through with some bonds coming off, we should be able to absorb this and the Douglass Center without raising that bond and interest fund and that should work. It's just the other things that are coming out in the future. I'm ok right now with incrementally taking a couple bites out of that North Campus Corridor," Commissioner Wynn Butler said.
The North Campus Corridor is seen as a major economic development driver for the future in Manhattan, but especially for Kansas State University and the National Bio and Agro Defense Facility (NBAF). Commissioner Jerred McKee supported the funding strategy.
"Particularly with the fact that even if the economic development fund in its renewal doesn't pass, it give the future commission a couple of years to prepare and figure out how they're going to fund it out of bond and interest," McKee said.
The City/University fund and K-State Athletics contributions toward the project total $250,000 to $300,000 annually. A total of $3.5 million of the $10 million pledged from the City University fund is being used for the first phase.
For the university, the project is seen as a major game changer, as it will enhance the cosmetic landscape to compliment upgrades at the K-State Athletics facilities. It is also seen as an opportunity to improve pedestrian safety and lower the amount of traffic accidents. The College and Kimball Ave. intersection sees roughly 20,000 vehicles daily. K-State President Richard Myers says businesses are also taking notice.
"Companies are coming and they're looking and they want to have an environment where they feel comfortable for their employees and for the work they want to get done. We know it's a significant investment, but we think it's a solid investment in economic growth for our community," Myers said.
Mayor Pro Tempore Usha Reddi echoed Myers' comments, noting it helps with the vibrancy of the corridor.
"If we have a wonderful North Campus Corridor, you will have more students coming, you will have more people coming and spending their money here and more alumni that want to get townhouses or places to stay. It's all a collective piece," she said.
The below renderings are courtesy the City of Manhattan from Confluence Landscape Architecture & Design.