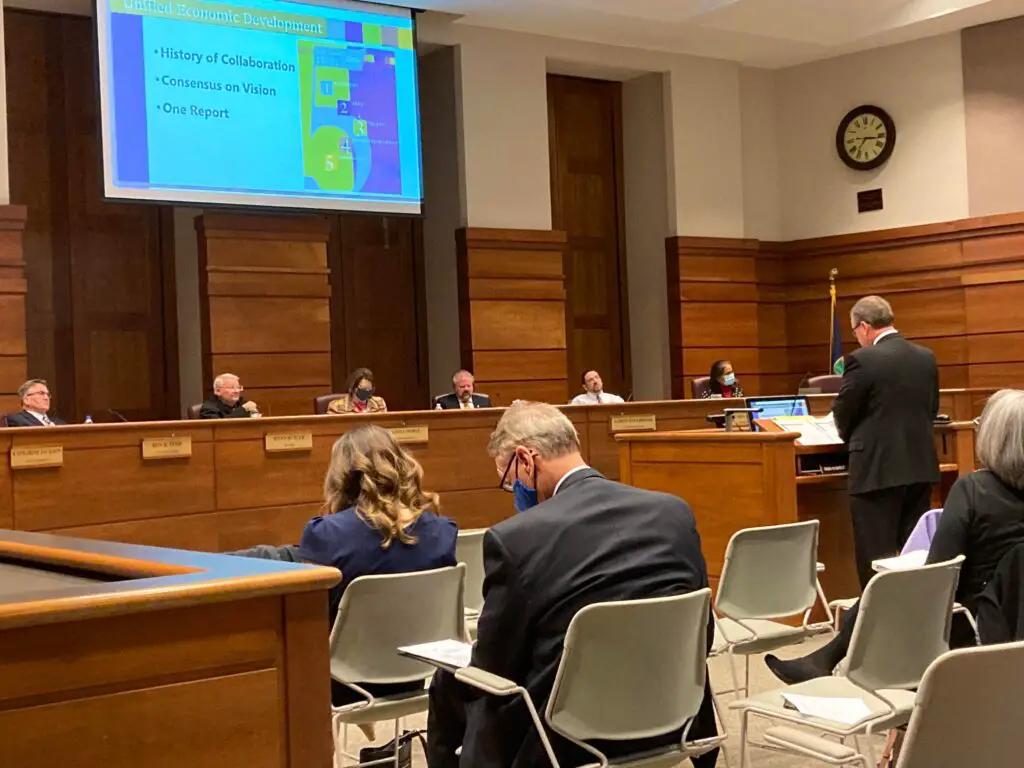 The Manhattan City Commission on Tuesday unanimously approved the budget request for the Manhattan Area Chamber of Commerce for 2022, totaling over $533,000 from the Economic Development Fund.
Chamber officials presented the year end report which included highlights from its work with the Greater Manhattan Economic Partnership and Knowledge Based Economic Development. Chamber President Jason Smith noted its five key areas in its economic development strategy remains focused on recovery, jobs, talent, entrepreneurship and innovation.
Daryn Soldan is the Chamber's Director of Economic Development and says in order to fill more jobs locally, more access to child care is needed, which is why a childcare task force was formed this past year.
Commissioner Mark Hatesohl suggested that as discussions continue to address the child care shortage in the community, more conversations need to be had over reducing regulations hampering some in home care providers.
Among the others to speak Tuesday night was Sarah Siders, Executive Director of the nonprofit Spark Manhattan, which has helped increase inclusive capital opportunities, education and resources and other efforts to support minority business development in the area. She spoke about Spark's contracted work through the chamber and its partnership with an organization called the Black Entrepreneurs of the Flint Hills.
Siders says 12 businesses graduated through their piloted program in August which was followed by the first ever Black Business Showcase which included 20 minority owned businesses. Siders says that also led to Spark and the Chamber launching a directory aimed at increasing exposure to these businesses.
City commissioners seemed pleased with the report provided by officials Tuesday night. Mayor Wynn Butler expressed support and suggested adding more detailed metrics to show the city's return on investment in the future.
Commissioner Linda Morse, who is the city's representative on the Flint Hills Regional Council questioned how the Chamber is working outside of Manhattan's boundaries. Chamber Economic Development Director Daryn Soldan says regionalism is a key focus for his department.
The city also agreed to the Convention & Visitors Bureau's ask of over $1.1 million to promote tourism of Manhattan, based on transient guest tax collections which are projected to increase slightly from last year.