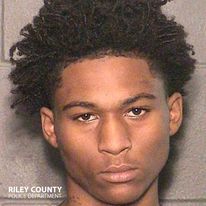 The Riley County Police Department is searching for a suspect connected to a July 28 aggravated robbery in Manhattan.
Police say they're looking for 18-year-old Malachi Fielder, who along with 15-year-Terriundis Toliver, reportedly robbed a 17-year-old male victim at gunpoint and then shot at him and a 45-year-old female victim as the pair followed the suspects driving away from the scene. A previous police report determined the incident occurred at the Holiday Inn parking lot. Fielder is accused of taking the 17-year-old's cell phone.
Toliver was arrested in connection for aggravated robbery and aggravated assault on July 31 and is currently in custody at the North Central Kansas Regional Juvenile Detention Facility in Junction City.
Police say Fielder is considered armed and dangerous and should not be approached. Anyone with information should contact RCPD at 785-537-2112 or Crime Stoppers at 785-539-7777.