With the deadline for the 2023 farm bill fast approaching, the message from commodity groups to Congress continues to be for expansion of the ag safety net.
The Kansas Wheat Innovation Center hosted a roundtable that included Kansas U.S. Sen. Roger Marshall, Arkansas U.S. Sen. John Boozman and members from 17 different organizations, sharing concerns for what they hope gets into the massive spending bill, which comes before Congress every five years.
"What we're trying to do is get out and about the country to hear different perspectives as to how we need to re-work the farm bill. We do that every five years. It's so important now as they have the ability to go their bankers, have the safety nets in place. We talked about drought and the importance of having the different programs to be helpful in those kind of areas," Boozman said.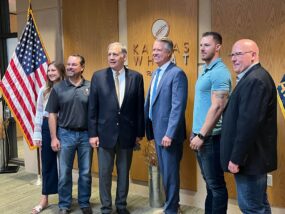 Sen. Marshall says he hears the concerns about the complexity of filling out forms just to get some of the federal aid and says they're working to simplify or streamline the process where possible.
"I'm as frustrated as anybody. Certainly the volume I'm hearing from not just farmers and ranchers, but from every small business across the country is that there's more and more rules coming out of this White House and it is simply strangling small businesses and killing the economy. So we're pushing back whenever we can," Marshall told reporters Friday.
Baseline spending is projected at $1.5 trillion over the next 10 years. According to Sen. Boozman, the ranking member of the U.S. Senate Agriculture Committee, $1.2 trillion of that is for nutrition and $300 billion is for farm programs.
"It's not unreasonable to make sure as we go into this next farm bill, that right at the top of the list, we do make it such that our farmers feel confident that they have the safety nets in place, to be able to go to the bank, borrow the money they need and know that if a drought comes, or whatever comes, that there is a safety net that will be there to help them get through it," he said.
Funding the farm bill remains a question mark with Sen. Marshall saying the biggest underlying problem is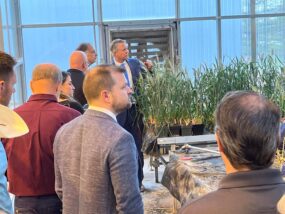 the price of food.
"Just like everyone's food at home is up 20 or 25%, these government programs are out there trying to fund food as well. When you're going year to year with some type of an operation loan and suddenly you're paying 7% interest rather than 2% on a million dollar loan, the paycheck doesn't last through the end of the month," he said.
The current farm bill expires at the end of September.