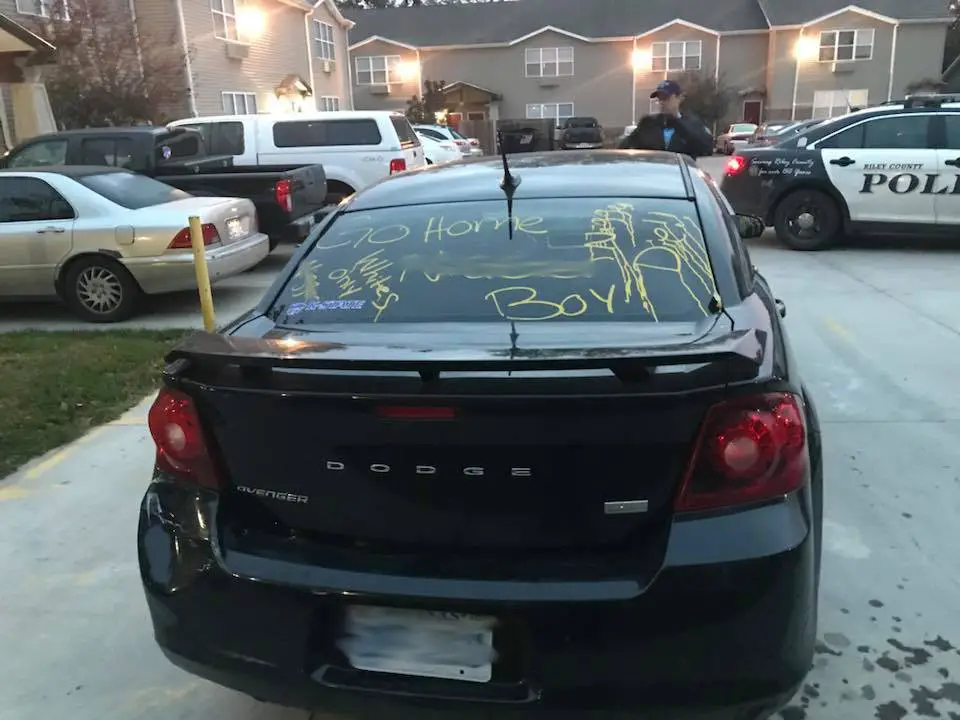 Updated: Tuesday, 11:36 a.m.
The K-State Black Student Union is urging the Riley County Police Department to press charges against 21-year-old Dauntarius Williams of Manhattan.
Williams, a black man, is the owner of the car vandalized last week with racist graffiti near the campus of Kansas State University. He admitted to authorities he was the one responsible for the act, according to a press release from the Riley County Police Department Monday afternoon.
The RCPD said Williams filed a false report, but did not charge him. In a joint statement, RCPD Director Brad Schoen and Riley County Attorney Barry Wilkerson said doing so "would not be in the best interests of the citizens who comprise the Manhattan community."
The Official Statement from the Kansas State Black Student Union! pic.twitter.com/glce8qeNdb

— Black Student Union (@ksubsu) November 7, 2017
In the state of Kansas, a false report charge can result in a class A misdemeanor, punishable to up to a year in county jail and a $2,500 fine, or, a severity 8 level nonperson felony, which has a standard sentencing of six months in state prison with no previous criminal record.
KMAN's Dave Lewis spoke with Schoen Tuesday morning. That full interview, which also included conversation on Monday afternoon's shooting near University Crossing in Manhattan, can be heard below:
"I would like to deeply apologize to the community," Williams was quoted in the RCPD's release. "The whole situation got out of hand when it shouldn't have even started. It was just a Halloween prank that got out of hand. I wish I could go back to that night but I can't. I just want to apologize from the bottom of my heart for the pain and news I have brought you all."
In Tuesday morning's interview with Schoen, the director told KMAN he understands the reasoning behind the BSU's latest statement calling for charges, but said he and Wilkerson thought such action wasn't the answer.
"There's a time for prosecution and there's a time for mercy," he said. "We both felt this was the appropriate time for mercy and for the system to not prosecute Mr. Williams and to just try and heal the differences and divides that resulted."
When it was thought Williams was a K-State student and the victim early Wednesday, the K-State BSU called an emergency meeting the night the incident made its rounds through social media. Monday night, the K-State BSU released a statement urging charges.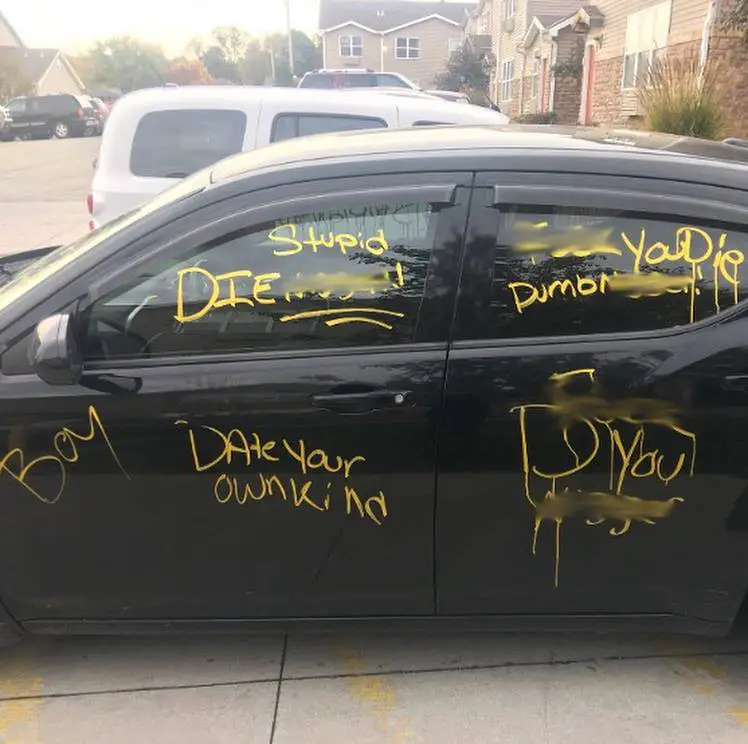 "The K-State Black Student Union is appalled, disgusted and hurt by the false report and so called "prank" that Dauntarius Williams filed on November 1, 2017," the statement reads. "The K-State Black Student Union is disheartened that no charges were filed by the Riley County Police Department. We believe that criminal charges should be filed and this would be in the best interest of the Manhattan community.
"The fact that an African American man committed this act should not undermine its effect on K-State students. The conduct of Mr. Williams does not negate the current racist and discriminatory actions that continue to occur on our campus and in our community, state and nation."
According to police, Williams' admission led to a series of conversations between Schoen and Wilkerson before they ultimately decided against pressing charges.
"While Williams' mistake had a decidedly negative impact on the community, please recognize that he, like many of us when we were young, is a young man who made a mistake and is now doing his best to own up to it," Schoen stated in Monday's release.
The police department's full release added, "RCPD recognizes the difficulties this case created in the community and the emotions that matters of this nature bring to the surface. While the community response to the incident was warranted based on the information available at the time, the facts are now different than previously reported. We want to encourage everyone to take a moment to reflect on this new information. We hope the community will remain vigilant, engaged and concerned for the safety and well-being of our fellow citizens."
Wilkerson addressed the matter in his own press release Monday afternoon.
"Over the weekend and prior to meeting, myself and Director Schoen discussed this matter and agreed that criminal charges were not warranted given Mr. Wiliams' willingness to come forward and clear up this unfortunate incident," Wilkerson wrote. "I, as the Riley County Attorney, believe it would be counter-productive for the County Attorney's Office to proceed with any type of criminal charge. Mr. Williams was contrite and apologetic, and embarrassed by the attention this matter has drawn to the community and to himself. I informed Mr. Williams that I accepted his apology and appreciated the fact he did come forward before the matter went any further."
Wilkerson continued and stressed understanding.
"This situation, as it turned out, does not mean the citizens of Riley County, Manhattan or Kansas State University should not remain vigilant in ensuring that our community responds to any words or actions that would or could intimidate any particular group of people or any individual," Wilkerson added. "We should remain vigilant against hate and intolerance. We should likewise, accept the apology of a young man who made a mistake and owned it before it went any further."
Thursday, the Federal Bureau of Investigation took over as the lead agency on the case.
The case was initially investigated as a hate crime.
At approximately 7:25 a.m. Wednesday, the RCPD received a report of a vehicle that had been defaced with graffiti in the 2200 block of Claflin Road in Manhattan near the K-State campus. The crime occurred sometime between 1:30 a.m. and 3 a.m. Wednesday morning.
Earlier reports indicated Williams to be a K-State student. His Facebook page listed KSU as his school, however, an adviser to the K-State Black Student Union, Brandon Clark, said during an emergency BSU meeting at the KSU Student Union Wednesday night there was no record of Williams ever being enrolled at the university.
Jeffery Morris, K-State's Vice President for Communications and Marketing, confirmed Clark's statement Wednesday night. Morris said KSU extensively searched databases Wednesday afternoon for any KSU association with Williams and no such affiliation was found.
Thursday, Williams' Facebook page no longer listed K-State.
Approximately 300 people of all races and backgrounds — including several KSU administrative officials — attended the BSU meeting and discussion of racial tensions were not deterred by Clark's announcement.
"Whether it's in the community where it's off campus, we're still directly affected by it," K-State Black Student Union President Darrell Reese said after the meeting. "Because a lot of our students live off campus, so this could have easily been one of our students."
K-State's BSU has been ranked the top BSU in the Big 12 nine of the last 11 years and has long been lobbying for a multicultural center on campus.
It was a topic that came up often during Wednesday night's meeting that allowed anyone to speak in front of the room.
"Most outstanding BSU for nine of 11 years now," Reese said. "And you think of our Big 12 campuses, we are the only campus that does not have a multicultural student center."
Several KSU faculty and administrators spoke, along with members of Manhattan High School's BSU. Reese said such dialogue keeps him optimistic.
"Hearing this dialogue always helps," he said.
Thursday morning, university president Richard Myers issued a statement via K-State Today and denounced the act.
"Yesterday a disturbing incident affected our Manhattan campus and caused significant pain to our students, faculty and staff," Myers, who was in Washington D.C. Wednesday, wrote. "The racist messages found on a car parked off campus are a direct attack on the values of our community."
Myers added steps will be taken to ensure safety.
"The K-State Police Department will immediately increase its patrols and visible presence on the Manhattan campus," he continued. "Those who need support should use the many resources we make available through student life and our counseling center. Please avail yourselves of assistance if needed, including our LiveSafe app and Wildcat Walk services. If we need to make additional resources available, we will.
"We call on the Riley County Police Department to use all available resources in its criminal investigation, including any necessary state and federal resources. There has already been widespread misinformation about this incident; we need to make decisions based on factual information, not rumors, unsubstantiated social media posts or stories. Let's get it right."
Myers is a retired four-star general with the U.S. Air Force, the 15th chairman of the Joint Chiefs of Staff and was the principal military adviser to President George W. Bush, the secretary of defense and the National Security Council from 2001-2005.
He referenced that background before addressing security cameras.
"My military career taught me that our collective safety depends on strength and vigilance," Myers stated. "We all need to exercise both. I am asking Vice President Cindy Bontrager to conduct a complete audit of security cameras on our Manhattan campus and develop a plan to improve our coverage. We will review security plans and improve as needed.
"In this uncertain time, I ask each of us to reach out to anyone who needs support and be alert for ways to help. We need to come together and resist those who wish to pull us apart."
The RCPD told KMAN the officer who filed the report said the paint used on the car did not appear to be permanent upon initial inspection.
Williams addressed the incident in a public Facebook post early Wednesday, including photos. But later in the afternoon, it disappeared.
Efforts were made by KMAN to contact Williams last week, but no correspondence was returned.
"This morning I woke up to three missed calls from RCPD asking me to come outside to find such hateful things written all over my car," he wrote. "I don't know whether to feel disgusted, mad or sad. I was raised to never judge a book by its cover nor discriminate because of race, gender, political views, etc. I haven't personally dealt with racism first hand but this is heart breaking and disturbing knowing that (there) are people out there with such hatred in there hearts.
"I wish I was closer to my family because I don't know how to handle something like this. But to those who did this to my vehicle you won't see me retaliating nor will you see down I'll just help educate to get rid of such hatred."
The K-State community has been on high alert for such incidents. Such emotions were stirred before it was discovered a stormed damaged and transported a Sukkah into a parked car last month. In September posters promoting white nationalism and supremacy were found displayed on campus and a noose hanging from a tree was found on campus in May. On Oct. 10, anti-gay slurs were found on campus.